Unit

Landscape Architecture and Environmental Design
Bio
Drawing from architecture, human geography, and urban planning, Michael Rios's research and writing focuses on urbanism, placemaking, and the social practice of planning and design. Critical essays have appeared in Cities and the Politics of Difference (University of Toronto Press 2015), The Informal American City (MIT Press 2014), Insurgent Public Space (Rutledge 2013), Beyond Zuccotti Park (New Society Press 2013), and Landscape Urbanism and its Discontents (New Society Publishers 2013). Michael recently co-edited "Community Development and Democratic Practice," a special issue of Community Development: The Journal of the Community Development Society. His co-edited book, Dialogos: Placemaking in Latino Communities (Routledge 2012), takes note of how Latinos are shaping the American landscape and considers how these changes both challenge and offer insight into placemaking practices in an increasingly multi-ethnic world. Michael received his Ph.D. in Geography from The Pennsylvania State University and Master of Architecture and Master of City Planning degrees from the University of California, Berkeley.

Michael is past Chair of the Community Development Graduate Group and currently serves as Housing Commissioner for the County and City of Sacramento. For his 2016/2017 sabbatical, Michael is  working on a book project focusing on design activism, image politics, and the role of institutions in cultural production. He is also developing a curriculum on social and cultural inclusion for the CA Department of Housing & Community Development.
PhD
Ph.D. The Pennsylvania State University, Department of Geography, 2006.
Masters
M.C.P. University of California, Berkeley, Department of City and Regional Planning, 1997
M.Arch. University of California, Berkeley, Department of Architecture, 1997
Bachelors
B.A. Cum Laude. Lehigh University, Urban Studies and Architecture, 1991.
Curriculum Vitae
Recent Projects and Publications
Capitol Mall Urban Design Study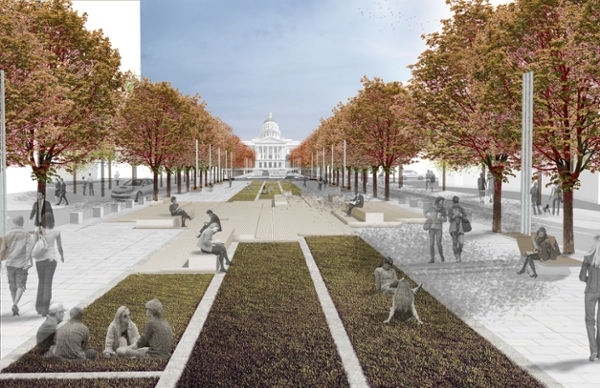 As profiled in the Sacramento Bee: Time for a redo of downtown Sacramento's Capitol Mall, Crocker Park?
The Capitol Mall Urban Design Study was created to inform future discussions about the planning and design of the Capitol Mall. The Capitol Mall is a major east-west street and landscaped parkway that connects Downtown Sacramento with the City of West Sacramento, and extends from the State Capitol Building to the east to the Tower Bridge to the west. The Capitol Mall has a long and complex history from its early years as a monumentally envisioned gateway to its post-war redevelopment resulting in the present-day mall flanked by government buildings, banks, and corporate offices.
An urban design team led by UC Davis Professor Michael Rios was asked by Councilmember Steve Hansen's office to analyze the Capitol Mall and develop a range of urban design scenarios to inform future planning and design. The work commenced in June of 2015 with a two-day charrette where the team met with city staff and a number of stakeholders comprised of property owners, public agency representatives, and non-profit organizations. Participants in the charrette included Professor Brett Milligan, Maggie Aravena '15, Flora Barbash '15, Julia Dahlgren '15, Elizabeth Godkin '16, and Nate Oakley '15. After analyzing existing conditions and identifying a number of urban design goals and scenarios, a draft of the results was presented to a larger stakeholder group in August of 2015. A final report was submitted in October of 2015. A free download of the study is available HERE.
Changing the Narrative of Affordable Housing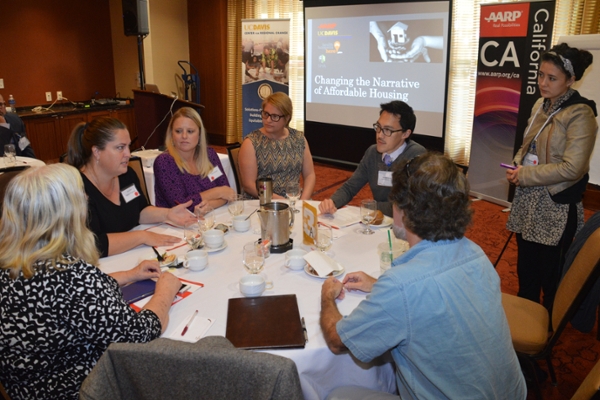 The growing demand for affordable homes coupled with the increasing local opposition known as NIMBYism ("Not in My Back Yard") signals a need to put a face to affordable housing as a strategy to educate the public about the individuals that benefit from living in these communities as well as the importance of affordable homes as a vital component of a healthy region. Professor Michael Rios, a faculty affiliate with the CRC, and Brandon Louie, a graduate student in Community Development, have completed a final report titled, "Changing the Narrative of Affordable Housing." They were part of a team comprised of faculty, students, and CRC staff that partnered with the California Chapter of AARP and the Sacramento Housing Alliance from July to November of 2015 to explore the opposition to and need for affordable housing, with a specific emphasis on the Sacramento region.
Utilizing data from primary and secondary sources—including interviews with local housing advocates and affordable home residents, community workshops, academic journal articles, and materials from other housing campaigns—the study found a number of commonalities between the local struggle for affordable housing and similar efforts across the country. The final report describes the project's approach, process and findings, highlighting what we know nationally and locally about this important issue. It also presents recommendations that identify potential messages, framing, data, resources, and organizational strategies to include in a campaign focused on changing the narrative of affordable housing in the Sacramento region. A free download of the final report is available HERE, and a video related to the project is HERE.
Assets, Capacities, and Public Talk: How Communities Create and Negotiate Power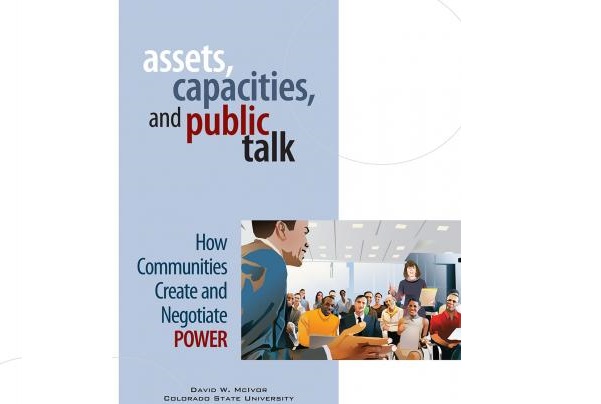 In this study for the Kettering Foundation with co-author David W. McIvor and Michael Rios explore citizens' notions of power and powerlessness. "Citizens today," they write, "seem leery of the language of power, in part because they feel as if power is elsewhere. Civic withdrawal, cynicism, and apathy are inextricably linked with these feelings of powerlessness. Yet democracy presumes that power ultimately resides in citizens' capacities to act, to initiate public projects, and to collaboratively shape their common world. The absence of power talk, then, both reflects and magnifies a worrisome civic power outage."
As Kettering Foundation president David Mathews has noted, one of the systemic problems of democracy is citizens' perception "that they can't really make a difference in politics because they don't have the necessary resources." McIvor and Rios state that, by assuming their own lack of agency, citizens come to accept a life of structural constraints. What could move citizens back towards the space of public action and civic capacity? This study asserts that it is the work of articulating and publicly deliberating about those constraints. Talking about power makes power possible.
Noting the need for public spaces in which citizens can identify and work through issues related to felt constraints on action and feelings of powerlessness, McIvor and Rios present a case study of the redesign of a transit plaza in San Francisco. The example shows how citizens and institutions can establish new relationships, modes of interaction, and collaboratively shape the future of their communities. It also shows that, to accomplish these tasks, citizens and communities need to engage in frank conversations about power. These conversations erode feelings of powerlessness, help establish trust across historical divides, and create new collaborative relationships and habits of interaction within a particular community. When experiences with power and powerlessness are shared publicly, the actual operations of power in a space can shift in dramatic fashion.
https://www.kettering.org/catalog/product/assets-capacities-public-talk
Negotiating Culture: Toward Greater Competency in Planning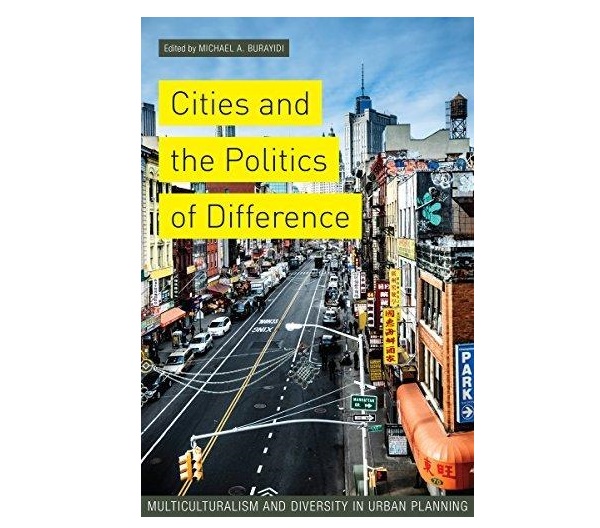 Today, we find ourselves in a world defined by transnational and transregional migration due to natural and human-induced disasters, human conflict, economic restructuring, and the intended and unintended consequences of government policies and actions. Struggles over place materialize at the intersections of these multi-scalar forces and are experienced as everyday contests over the rights to space and place. It is against this backdrop that place and culture collide in ways that raise critical questions for the future of planning practice. For example, little thought has being given to issues arising from an increasingly multi-ethnic and multi-racial world resulting in a superficial treatment of a plural public realm. The limits to current approaches are evident inasmuch as planners stay within the narrow confines of professional norms and fail to address claims by new social groups. This complicity defines the current crisis of urbanism—an ambivalence about which public is being served, the reproduction of existing social structures that perpetuate exclusion and social inequality, and the absence of ethico-political considerations.

In this chapter, I highlight the importance of place as the space where new forms of citizenship are being produced as marginalized populations struggle to build community and gain social and political standing. I draw attention to the difference that culture makes for these communities and, specifically, how the convergence of place and culture instigate negotiations of belonging, authorship, and power to establish what groups can expect of one another. Negotiations are the basis for agreements and provide shared experiences that maintain relationships into the future. These "cultural contracts" measure the degree to which values and commitments are exchanged between groups—including professionals and the publics they purport to serve. Unlike the problems of sprawl and environmental degradation, there are no easy technical solutions to working more effectively with culturally diverse communities. While cultural diversity is a growing part of planning discourse, most schools do not offer courses on the topic as part of core curricula nor are students required to demonstrate their ability to work effectively across cultures. One implication for planning education is the need for a greater focus on cultural competency: as measured by the level of cross-cultural communication between individuals and among different social groups to determine why place matters, for whom, and with what results.
http://www.utppublishing.com/Cities-and-the-Politics-of-Difference-Multiculturalism-and-Diversity-in-Urban-Planning.html
Community development and democratic practice: pas de deux or distinct and different?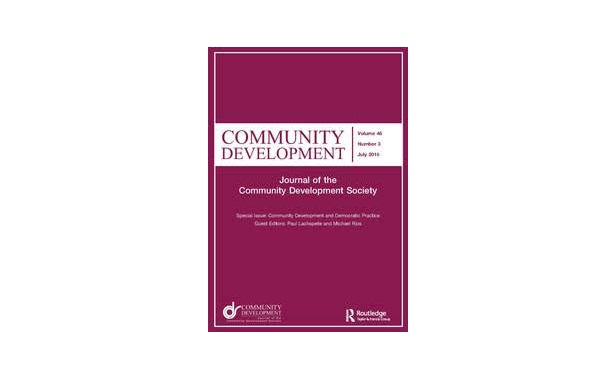 In this introductory article co-authored with Paul LaChapelle, we discuss the theme of the Special Issue of Community Development focused on community development and democratic practice. Seven articles are summarized and highlight a range of case studies that vary by location, scale, and purpose, followed by a reflective essay. Drawing from the articles in the Special Issue and a series of joint learning exchanges on the topic sponsored by the Kettering Foundation, we then outline a heuristic framework for "democratic community development." The framework asks a number of related questions about how democracy, community, and the public are constituted, and what processes, end goals, methods, and tools are to be used to further democratic community development.
http://www.tandfonline.com/doi/full/10.1080/15575330.2015.1032050

Learning from Informal Practices: Implications for Urban Design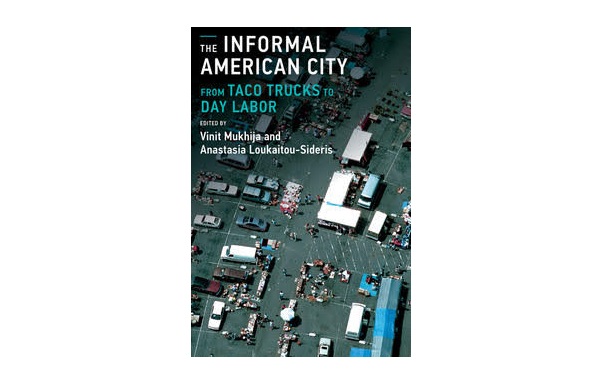 Many low-income communities present a conception of urban space that does not fit easily into regulatory frameworks and municipal ordinances. Some of its manifestations in the built environment include the appropriation of public and private land for a range of purposes and informal activities that defy land use norms, zoning requirements, and the law. These same places are often targeted by a planning agenda that views them as sites of gentrification and test beds for the latest sustainability idea. Consequently, punitive policies and practices are used to criminalize informal activities as a strategy of "urban cleansing." These range from fines for building code violations and banning of public assembly to neighborhood preservation and day labor ordinances. 
In the chapter, I analyze the spatial manifestations and aesthetics of informality with an understanding that places are sites of "world making"—social imaginations of space that are produced as individuals and groups negotiate material and social relations to secure the necessities of life. This acknowledges that residents, developers, professionals, institutions, the state, and other actors simultaneously assess and intervene in the same spaces of everyday life. To highlight how informality can inform urban design practice, the chapter describes an experimental studio with undergraduate students at the University of California, Davis. The studio documented spatial practices found in Sacramento's most racially and ethnically diverse district, proposed a series of interventions that circumvent the expected use of urban space, and problematized existing planning policies and practices. I conclude by identifying some implications for urban design that engage in the spatial practices found in marginalized places, and explore the relationship between urban livelihood and material thinking.
https://mitpress.mit.edu/american_city
Democratic design: A conversation about design as a resource for communities to gain power, build capacity, and democratize development.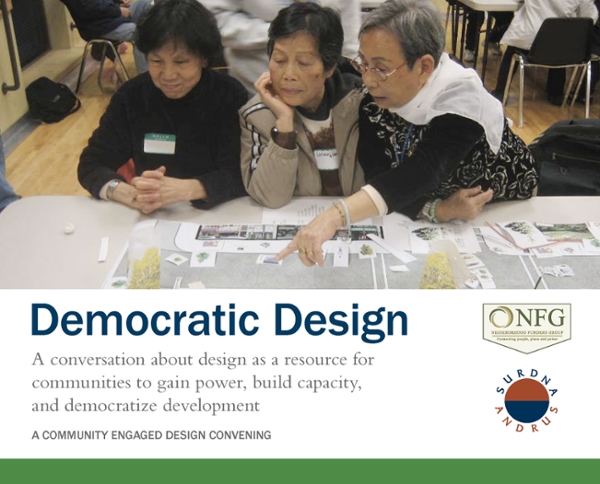 Community engaged design is an alternative form of practice guided by a focus on placemaking to improve the social, environmental, and economic health of a local community. A central component of this practice is a commitment to values of inclusion, participation and social justice, as well as outcomes resulting in citizen and institutional capacity, the fair allocation of public resources, and a greater sense of belonging.
To facilitate dialogue about the increasing interest in community engaged design, Professor Rios was a lead organizer for a two-day event sponsored by the Neighborhood Funder's Group and the Surdna Foundation. The aim of the event was to convene leading philanthropic organizations to discuss the value of community engage design and its role in "democratizing development" and place-based philanthropy. The event culminated in a publication where Professor Rios served as the lead author. A free download of the publication is available HERE.